Sndgems jewelry guides are easy to use, interesting and helpful guide to buying jewelry onle. Our jewelry guides are indispensable guide to judging jewelry characterstics, distinguishing genuine from imitation, making wise choices, useful to all type of consumers, from professional jewelry to online searchers. Our diamond guides help everyone in viewing diamonds as gemologists, diamond experts, diamond dealers, experienced lapidaries, diamond buyers and online customers. Our diamond guides dissects each aspect of diamond value in detail with a wealth of diamond grading information. Our gemstone guides help everyone in viewing colored gemstones as gemologists, gem dealers, experienced lapidaries, gem buyers and online customers. Our gemstone guides dissects each aspect of ruby, sapphire, ruby value in detail with a wealth of gemstone grading information. Our guides offers step-by-step instructions for how to examine and judge the quality and craftsmanship and materials even if you dont know anything about jewelry. If you're thinking of buying jewelry online this guide is a best place to start. Our guides will help you to know about jewelry details such as finishes, settings, flaws and fakes. Our guides cover diamonds, gemstones, jewelry craftsmanship, treatments, diamond and gems sources, appraisals. There is something for everyone.
Learn about Diamond Ring Styles and Designs – Choose your Perfect Engagement Ring, Anniversary Ring or Wedding Ring
Diamonds since ancient history are the most popular choice for designing a ring be it an engagement ring , a wedding ring, an anniversary ring or a gift to a loved one you treasure. People have selected diamond as diamonds are the most precious gemstone found on earth with very special characteristics and a very rich and esteem hisrtoy. Diamonds perfectly convey that your love is pure and foreverand shall newer die, just as diamonds are forever. Since ages jewelry designers over the world have been developing new designs to give their rings the most gorgeous and most stunning look. Its not just the royals , the celebrities, the rich and the famous that have craved for a unique and magnificent piece of jewelry. Every lay man especially women deeply desire to own a timeless piece of diamond jeweley. To satisfy this intense desire, jewelry designers have worked over centuries trying to perfect diamond cuts, diamond settings, diamond finish and diamond shapes.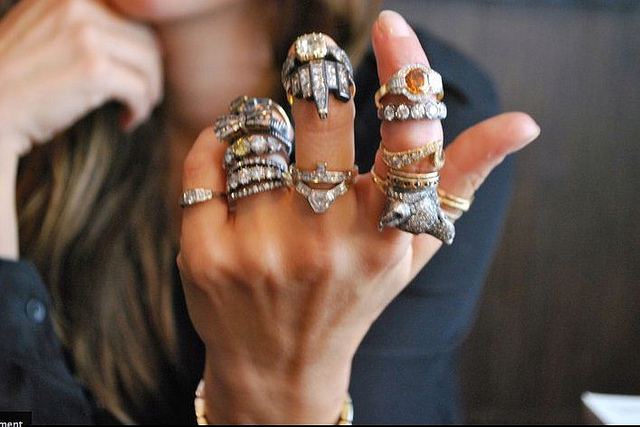 Diamond rings can come in a variety of designs and styles that choosing a ring can sometimes be really confusing and hard not just on your pocket but hard on your time as well. For the convenience of our jewelry lovers we have compiled a comprehensive list of some popular Diamond ring designs that have been chosen by many including celebrities and Royalties like Britney spears, Angelina Jolie, Anne Hathaway, Kate Middleton, Zara Phillip and many more.
| | | | |
| --- | --- | --- | --- |
| Diamond Rings Set with Rubies | Diamond Rings Set with Emeralds | Diamond Rings Set with Sapphires | Diamond Rings with Multiple Gemstones |
| | | | |
| Art Deco Style Diamond Rings | Modern Style Diamond Rings | Diamond Rings with Milgrain Edging | Diamond Rings With Filigree Design |
| | | | |
| | Three Stone Diamond Rings | Art Nouveau Style Diamond Rings | Diamond Rings with Colored Diamonds |
| | | | |
| Edwardian Style Diamond Rings | Retro Style Diamond Rings | Georgian Style Diamond Rings | Victorian Style Diamond Rings |
| | | | |
| Classic Style Diamond Rings | Traditional Style Diamond Rings | Unique Diamond Rings with split shank and twisted band. | Diamond Rings with Matching Bands |
| | | Tension Set Diamond Rings | |
| | | | |
| | | | |
| | | | |
Design your Perfect Engagement Ring – Unique Diamond Engagement Ring Design Process
To understand better the different diamond engagement rings designs and styles available in the market you need to first understand the parts of a ring and some basic characteristics common to all rings be it engagement rings, wedding rings or anniversary rings
A ring consists of a claw, a stone or stones, bezel (middle, lower and upper bezel), and Shanks ( Full shank , 3/4th shank and half shank), accent stones . The part of the
ring
that encircles the finger is called the shank. Strictly speaking, the shank does not include the ring head and stone. The claws hold the stone or stones. Bezel is the part of the ring to which the gems are attached.
Accent stones are any gemstones added to an engagement ring in addition to a center diamond.
Custom Designer Diamond Engagement Ring Design Process
There are endless variations that you can do to a diamond ring meant for engagement, wedding or anniversary. The design process can be thought of at different levels like
Preferences in ring style, diamond/colored gemstone placement, metal choices, band choices, stone shape choices and setting choices, solitaire Vs side stones.
The first level would be to understand what a lady wants from her engagement
ring, i.e what design appeals to her, what is her style and what would best look on her considering her looks, personality, job, activities that she pursues etc. This inspiration can stem from
a magazine clippings, jewelry catalogs, jewelry history books, architectural detail or can stem from a classic ring design with a new twist, or from varied appealing aspects of multiple rings.
You can start to visualize the look of a ring by asking simple questions like.
What accessories does she wear? Often? Bold? Subtle?
Does she change her jewelry often? To match and coordinate with her shoes, purses, clothing etc,
Does she have an active lifestyle?
If so, we would look for designs with fewer high prong settings and more streamlined surfaces.
What are her hobbies?
Fashion? Design? Athletics? - Answer to this will give us insights into the lines of design style: like
Modern, Geometric, Classic, Antique.
Once we have a list of choice descriptors of our customer our jeweler then decides on the technical considerations
Diamond/colored gemstone placement:
Today there are endless choices for the stone that you want in your Engagement ring, Wedding ring or Anniversary Ring. Diamonds are undoubtedly the most preferred choice for Engagement ring, Wedding ring or Anniversary Ring. Next to diamond come the sapphire , rubies and emeralds. Some couples prefer to choose an combination of two stones, say diamond and ruby, diamond and sapphire or Diamond and emerald. Besides diamonds, sapphires, rubies and emeralds there are a couple of other gemstones too that are used to design beautiful rings like garnet , Jade, Peridot, Topaz, Turquoise, Zircon, Amethyst, Spinel, Opal, aquamarine etc. But these are less preferred for occasions like engagement, wedding or anniversary.
Diamond/ Gemstone Shape Choices:
The beauty of a ring depends a lot on the shape of the stone or stones that are used to design the ring. Each shape has a different personality attached to it and give a different look and grace to the ring. Diamonds and other gemstones can be cut into different shapes like
Round cut diamonds, Radiant cut diamonds, Cushion cut diamonds, Asscher cut diamonds,
Princess cut diamonds, Emerald cut diamonds, trillion cut diamond, Marquise diamonds, Heart shaped diamonds, Pear shaped diamonds, Oval shaped diamond.Selecting the Diamond or gemstone shape is crirical in designing the diamond ring.
| | |
| --- | --- |
| | |
| | |
| | Individualistic, creative and well organized |
| | Sentimental, feminine, dreamer |
| | Disciplined, efficient and honest |
| | Home and community centered, adaptable |
| | Etroverted, aggressive, career centered |
The diamond solitaire ring is a classic in the jewelry world. Solitaire admirers love the elegant simplicity and the focus on one fabulous gemstone. The band itself is almost an airy mechanism to bring focus to the diamond at its center.
Setting choices

What type of Setting? Prong setting or a bezel setting ?
A prong is a pointed projection that extends up the side of a gemstone, curls over the top of the gem, and secures the gem in place. A bezel is a solid wall, or rim, of metal that surrounds the entire edge of a gem and holds the gem in place. To some extent, the selection of a prong setting or a bezel setting is a visual preference. Prongs allow more light to enter the sides of a stone, and a bezel may protect a stone more. Bezels often give a more modern, streamlined look while prongs remain more visually neutral. A 6-prong setting is considered the most secure prong setting for a round brilliant cut diamond. However, many people prefer the look of a 4-prong setting for a more minimal setting appearance. Some colored gemstones are too fragile to be bezel set easily and are, therefore, prong set. Settings styles also vary for the center diamond and the sidestones
Center Diamond Setting Styles or Solitaire Setting Styles
Prong or Claw Setting
: This is a classic setting where the stone is visible from all sides for maximum brilliance. This is a classic setting that appeals to a wide variety of tastes.
Tension Setting
: In this setting pressure holds the stone firmly in place allowing it to reflect maximum light. Tension settings are very unique, if she is looking for something really unique this bold look will be her favorite.
Cathedral/Contour Setting
:
In this setting the stone is held high by raised shoulders that help to protect the diamond. Contour Settings look timeless and elegant and are ideal for stylish woman who like the traditional.
Bezel Setting
: In this setting the stone is framed in platinum, keeping it secure. Bezel settings are give a clean and modern look and are especially suit someone with an active lifestyle.
Halo Setting
: In this setting the stone is surrounded by a band of platinum or diamond melee, framing it to appear like a halo. This setting gives a classic vintage look that appeals to the modern woman.
Side Stones Setting Styles
Bar:
A thin metal bar separates each stone but leaves the sides open to bring in the light.
Pave:
Often used to create a sparkling look of diamonds, tiny metal beads hold each stone in its own discrete setting.
Channel:
Stones are placed in a metal channel and are visible but not prominent. They form a continuous flow with no metal to separate them.
Baguette:
A classic and timeless style, baguette stones accent and show off the center stone with simple elegance.
Flush:
A low stress setting that secures small stones inside tiny holes.
Each setting has its own advantages and disadvantages.
When designing the band a large number of questions need to be answered like - How wide should the band be? Narrow or wider, tapered or non tapered,
what should be the shape of the band, what should be the texture of the band, Should accent stones be used on the band etc. You can choose between different design details, widths, profiles and finishes of a band
Milgrain
: It is a raised, beaded line.
Filigree:
It is a delicate, lacelike design often made by bending and soldering fine wires. It gives an antique look creating elaborate patterns such as rosettes, spirals or vines.
Beveled Edge
:
It is an angled edge with a contrasting or complementary finish.
Weave or Braided
: It is a raised design that resembles strands of metal woven together.
Standard widths are between 2mm and 6mm, but bands of up to 12mm can be ordered. Wider bands allow for more design details, including engraving.
Round:
The exterior of the band has a rounded appearance. Also called "classic" or "domed".
Flat:
Flat on both the interior and exterior surfaces.
Comfort Fit:
Curves to fit the finger, reducing rubbing and irritation. It is available in either round or flat profiles.
Polished:
A high shine finish.
Satin:
A brushed finish, but with a finer texture than matte.
Hammer:
A hand wrought appearance achieved by using the round end of a ball peen hammer to texture the band surface.
Matte:
A brushed finish that has a smooth but less shiny surface.
Stone:
A coarse brushed finish with a more rugged look than matte or satin.
A narrow band can offset the diamond or center stone to give it a more prominent 'spotlight' position. A wide band gives a different degree of heft or substantive visual to the overall appearance of the ring. A wide band often incorporates the diamond into more of an integrated 'band.'
The band width for a solitaire setting can have additional variations: --continuous width around the finger or tapered at the top or bottom. Tapering at the top can create focus for the center stone. Tapering at the bottom can create comfort on a thicker band.. You can have an Engraved band tapered towards the bottom or Band tapered in towards side diamonds. The choices are endless. Shape of the band: The engagement ring band can have a rounded surface or squared edge. All of these variations alter the perception and style of the solitaire ring. Rounded is softer to the eye, and more squared has a more geometric appearance. For comfort, slightly 'softened' edges are generally more comfortable
Texture of the band: The band can be brightly polished, satin finished (fine consistent 'scratches,' engraved (very detailed), hammer finished, or a combination of the above. Texture variations influence the visual style of the ring- enhancing the feeling of being more contemporary, antique, or classic.
Accent Stones: Accent stones are any gemstones added to an engagement ring in addition to a center diamond. Both diamonds and colored stones can be used as visual accents in engagement rings. While diamond side stones reinforce a diamond engagement ring's 'white sparkle,' colored gemstones contrast the colorless nature of a diamond.
Should the side stones be diamond or colored gemstones?
As with all design elements, this is a matter of visual preference and is entirely subjective. Side stones can embellish an engagement ring design with their placement and integration within the ring. Depending on their size and number, side stones can frame a center stone, highlight it, or incorporate it into a grouped balance. They can be fairly large in size or very tiny, few in number or numerous. The band design for a side stone engagement ring follows the same design considerations as with a solitaire design. Band width, shape, and texture should all be considered as well as how they relate to the number and shape of the side stones. Diamond is undoubtedly the most preferred stone for side stones but nowadays there is an increasing preference for rubies, emeralds and sapphires as sidestones as they add color to the ring design making it stand out.
Choosing the engagement ring metal plays a vital part in design, style, look and beauty of a diamond engagement ring. There are many different metals used in jewelry: with gold and platinum the most common for engagement rings. Diamonds look beautiful set in all metals. With colored gemstones, metal choice is somewhat subjective. Certain gems, such as ruby, have warmer tones and complement yellow gold. Others, like blue sapphire, have a 'cool' appearance and are highlighted by platinum. Ultimately, beautiful gems will look beautiful set in any metal. Diamonds and platinum are often paired together since the colorless nature of platinum accentuates the colorless nature of diamonds.
Gold
24K is pure gold. Pure gold is known for being very malleable and ductile, meaning it can be easily stretched and shaped without breaking. Basically, the higher the karatage of gold: the greater the amount of gold, the softer the metal
and
the more expensive the metal. Reducing the amount of pure gold by adding other metal alloys increases gold's hardness, durability, and even changes its color. If you reduce the total number of parts of gold, you have a percentage of alloys and a percentage of pure gold. These different proportions determine gold karatage.
For example:
1
4K gold is 14 out of 24 total parts gold and has 10 parts alloy and an 18K is 18 out 24 total parts of gold. In order to increase gold's durability, additional metals are added to the gold mix. The proportions of the mix account for the different gold 'colors' and the alloyed gold's hardness. For example:
karat yellow gold has alloys silver and copper
,
karat white gold has alloys nickel, copper, zinc or palladium, copper, zinc
, colored gold` s like
rose gold has alloys larger amounts of copper (red) and silver
while
green gold has alloys silver with no copper
.
The 14 karat golds tend to be the most durable and are excellent for long term wear. With yellow gold, 18K gold is softer than 14K gold but is preferable to some for its higher gold content. White gold is a derivative of yellow gold- its color generally coming from the 'bleaching' by nickel, palladium, and zinc combination alloys. Because of this, white gold is not as white as platinum and is often plated with rhodium (a thin layer of metal in the platinum family) to 'whiten' its color. From time to time, roughly every several years, it will need to be re-rhodium plated. As far as durability, white gold is a very hard metal and keeps its polish longer than platinum.
Platinum
Platinum is a very rare, dense metal with a pure white color. The sheer whiteness of the platinum is often the reason it is chosen for settings for very colorless diamonds. Because of its rarity, platinum is the most expensive metal for an engagement ring. While platinum is very dense, it has a softer surface and will develop its own texture from daily scratching and wear. It is also the most expensive of the precious metals used in jewelry.
The lower price of palladium combined with its benefits make it an ideal option for jewelry. Palladium advantages are that it resists tarnish, is whiter than white Gold, is hypoallergenic, is malleable, is classified as a precious metal. Palladium rings usually consist of 95% palladium and 5% other metals.
Will the ring be worn alone or with a wedding band?
This can be hard to determine at this stage but is worth considering when focusing on design. If the engagement ring will be worn later with a wedding band, a nice visual balance is always preferable. Wedding band looks best when no wider than the band section on the engagement ring. Wedding bands are often custom-shaped to fit next to the engagement ring- especially when a larger solitaire is involved. The width of the engagement ring's stone setting often extends beyond the width of the engagement ring band. This creates a gap when a flat wedding band is placed next to the engagement ring. A straight wedding band cannot sit flush against the band of the engagement ring. Some visual 'gap' is visually acceptable and looks beautiful. However, too great a gap can cause excess friction between the two rings and abrade the metal on each.
Jewelry Designs and Styles – Inspirations from the Ancient Symbols to make an Outstanding and Gorgeous piece of Jewelry for your Engagement, Wedding or Anniversary
Today the quality of materials used for making jewelry has improved manifolds than that was used by the ancient jewelers. Platinum, Gold, Palladium, Titanium, Silver and Tungsten are the metals of choice for making Modern Jewelry along with gemstones like diamonds, Rubies, Emeralds, Sapphires, Pearls etc . Due to the advancement in tools and technology, working with these beautiful, solid and durable metals and stones is much easier today than it was in the ancient times. So modern jewelers can more easily come up with a unique and gorgeous piece of jewelry with a few good ideas and inspirations. Modern jewelers are taking a lot of inspiration from the past jewelry designs. Some of the famous symbols and characters of ancient world are seen today in many modern designs. For your convenience we have compiled a list of Ancient symbols that are used in jewelry designing today with a modern twist. These symbols are carved into pendants, earrings, brooches or they are engraved in bracelets and in the band of a ring , be it an engagement ring, wedding ring or an anniversary ring.
The Egyptian Symbols in Jewelry – Egyptians used a lot of symbols and hieroglyphics in there jewelry. They were used for good fortune, protection, religion. Some of the most popular Egyptian symbols used in modern jewelry are Ankh (A symbol of eternal life); Scarab (A symbol of spontaneous Creation); Udjat or the eye of the Horus( It is a symbol of healing and protection); Egyptian Cartouche ( In Egyptian hieroglyphs, a cartouche is a rectangle with a horizontal line at one end, indicating that the text enclosed is a Royal name); Tiet or the Knot of Isis( a symbol of eternal life and Resurrection) Flail and Crook (A symbol of Royalty and Dominion); Shen ( A symbol of Protection); Primordial Hill (A symbol of life.The Egyptians believed that this hill rose out of the sea to create land to live.); Sensen or lotus flower symbol ( This symbolized the sun and creation and rebirth); Leb ( This symbol represented the heart which is the center of all consciousness); Amenta (A symbol of Underworld or the land of the dead), Uraeus (A symbol of Sovereignty and divine authority); Maat ( A symbol of truth, justice and Morality); Djed ( A symbol of stability of the deceased); Sema (A symbol of Unification); Feather of Maat (It represents truth, justice, morality and balance); Obelisk( It represents a petrified ray of the sundisk); Was ( This is a symbol of power and dominion The was scepter was carried by the deities as a symbol of power); Nemes ( This was a striped head cloth worn by the Pharaohs).
The Roman and Greek Symbols Jewelry – Roman and Greek symbols have inspired a lot of modern jewelers to design unique pieces of jewelry. Some of the roman symbols very common in jewelry include the following: The Minotaur( In Greek mythology the Minotaur was part man and part bull); Labrys ( this is a double headed sword known to the Greeks as pelekys or sagaris); Mano fico ( It represents a hand gesture in which the thumb is thrust between the curled index and middle fingers symbolizing heterosexual intercourse); Asclepius Rod (It symbolizes the healing arts by combining the serpent, which in shedding its skin is a symbol of rebirth and fertility); Sun Cross (Sun Cross features a circle around a cross relating to religion); Fasces(symbolizes power, jurisdiction, strength through unity); Gorgon(a gorgon was believed to be a female monster with sharp fangs who was a protective deity from early religious concepts. This image was put upon items from temples to wine kraters for protection); Labyrinth (it symbolizes a pathway representing a cyclic journey of death and rebirth); Bowl of Hygeia (Hygeia was a Greek goddess of health. The bow of Hygeia symbolizes medicine, cure and good health).
The Irish Symbols Jewelry: Many modern jewelry are inspired Ireland . The Claddagh symbol (It is composed of two hands holding a crowned heart and symbolizes love, friendship and loyalty);The shamrock(It is a three-leafed clover that grows abundantly in Ireland . It symbolizes good luck); The Celtic Cross (This symbol is a variation of the traditional Christian cross. It is said that St. Patrick combined the Christian cross with the sun cross that is used by Pagans);The Irish Harp (The harp is loved symbol of Ireland);Gordian knot or Torus Knot( It symbolizes the idea of unity which binds everything into one);Tara Brooch; St. Brigid Cross, Celtic Knot are all contributions from Ireland to the Jewelry Industry.
The Hindu Symbols Jewelry: Om or Aum( Om is used to symbolize the universe and the ultimate reality.);The Lotus ( This represents creation and is used to symbolize Vishnu, Brahma and Lakshmi);The swastika (It is actually a sign of luck and fortune symbolizing 4 directions or four vedas); The Ganesha (It represents Lord of Obstacles and Ruler of Dharma);The Sri Yantra (It symbolizes the bond of both the masculine and the feminine divinity); The Shiva Lingam ( It represents Shiva, and its elongated column looks like an erect penis); Tilaka ( A U-shaped tilaka symbolizes devotion to Lord Vishnu, while horizontal lines symbolize a devotion to Shiva); The Vata, the banyan tree(it is a symbol of Hinduism, which branches out in all directions, draws from many roots, spreads shade far and wide, yet stems from one great trunk.
The Christian Symbols Jewelry : The Latin Cross( It is a symbol of Christianity); The Rose (Five roses grouped together symbolize the 5 Wounds of Christ);The Borromean Rings( They represent trinity in Christianity i.e. the belief that God is one Being made up of three distinct Persons who exist in co-equal, co-eternal communion as the Father, Son and Holy Spirit); The Dove (It also symbolizes the release of the soul in death, and is used to recall Noah's dove, a harbinger of hope); Baptismal Cross (It is a symbol of regeneration and is associated with Baptism); Lamb (It is a symbol of Christ); Star of David (This five-pointed star formed by two interlocking triangles is also a symbol of Christianity associated with the birth of the Savior, Jesus Christ); The Holy Bible (It represents the Word of God); The Circle (This Christian circle represents eternity); Bread and Wine (This represent the body and blood of Christ); Other Christian symbols include the Anchor, Jerusalem Cross (also called the "Crusaders' Cross," it is made up of five Greek Crosses), New Coptic Cross, the Christian fish , Crucifix Cross, Patriarchal Cross, Cross Crosslet.
Symbols give meaning to your jewelry. They may convey the message of Friendship, Power, Good luck, Religion, Peace, Alchemy, Strength, Motherhood, Zodiac etc. The list of symbols inspiring designs in jewelry is endless.
Gemstone Education

Diamond Education

Jewelry Education

Metals Education

Settings Education

Designs Styles Education

Ring Size Education

Certification Education

Authencity Education

Genuine Gems Education

Buying Online Education

Jewelry Care Education

Gems Care Education

Company Info Education

Sapphire Jewelry Advice

Emerald Jewelry Advice

Ruby Jewelry Education

Antique Jewelry Advice

Gems Mining Education

Eco-Friendly Education
Online Shopping Tips - How to Buy Authentic Jewelry, Genuine Gemstones, Natural Diamonds & Real Gold
What is a Genuine Gemstone? Know All About Genuine Gemstones. Read More.
What is Authentic Jewelry? Know All About Authentic. Read More.
What is Certified Jewelry? Know All About Certified Jewelry. Read More.
What is Fine Designer Jewelry? Know All About Fine Jewelry. Read More.
Genuine Gemstones Identification? Know All About Fine Genuine Gemstones. Read More.
What is Real Gold, Platinum, Silver, Palladium or Fake Gold Filled, Gold Plated? Know All About Real Gold, Platinum, Silver, Palladium, Platinum, Silver, Palladium. Read More.
Jewelry Caring & Cleaning, Ruby Jewelry Caring & Cleaning, Sapphire Jewelry Caring & Cleaning, Emerald Jewelry Caring & Cleaning, Diamond Caring & Cleaning. Read More.
Genuine Diamond Testers, Genuine Gemstones Testers, Real Metal Testers, Authentic Jewelry Testers. ? Know All About Testers to Identify Natural Diamonds, Genuine Gemstones, Real Metals and Authentic Jewelry. Read More.
Sndgems Jewelry Trade Affiliations, Read More and Conflict-Free Diamonds. Read More.
Celebrity News - Red Carpet, Oscars, Celebrity Jewelry. Read More.
Fine-Quality Burma Ruby, Ceylon Ruby, Kashmir Sapphire, Burma Sapphie, Columbian Emerald Guides. Read More.
Complete Online Shopping Guide to ensure safe shopping, getting quality value product with money back guarantee when shopping online for jewelry. Read More.
Identification of Synthetic or Fake Emeralds from Genuine Emeralds Guidelines. Read More.
Identification of Synthetic or Fake Rubies and Sapphires from Genuine Rubies and Sapphires Guides. Read More.
Identification of Ruby, Sapphire Sources - If they're from Burma, Ceylon or Thailand. Read More.
Identification of Emerald Sources - If they're from Columbia, Zambia, Brazil, Africa. Read More.
Gemstone Buying Guides - How to Evaluate, Identify & Select Genuine Gemstones of Good Quality. Read More.
Gemology 101: Gemologists Identification & Valuation of Gemstones Diamonds. Read More.
Identification of Synthetic or Fake Imitation Diamonds from Genuine Diamonds Buying Guides. Read More.
Jewelry Appraisal Education Center - What's Your Jewelry Worth? Jewelry Appraisal, Diamond and Gemstone Appraisals Guidance. Authentic Jewelry: Certified Diamond & Genuine Gemstone Jewelry. Read More.
The Worlds Top Jewelry Stores, Online Shopping Guides. Read More.
Complete Online Shopping Guide to ensure safe, secure online jewelry shopping. Read More.