Emerald cut clean, glassy cuts mean that it doesn't hide inclusions as well as round cuts, so only high quality diamonds should be used in an engagement ring. Read more about .....
Known for its enchanting deep green color, usually referred to as 'emerald green,' the emerald is a variety of the mineral beryl. The green color is caused by traces of chromium or sometimes vanadium that is present in the stone. Emeralds usually contain many surface reaching inclusions and are therefore it is important to read this article. The large number of inclusions also means that emeralds are not graded based on magnification, but rather, on what the eye can see. In fact, as long as there are not any visible flaws, the stone is considered flawless.
DO EMERALDS HAVE INCLUSIONS?
When determining the clarity of an emerald it is important to note that almost all emeralds have inclusions. GIA categorizes three clarity types for colored gems:
Type 1 gems that are often virtually free of inclusions
Type 2 gems that usually have inclusions and
Type 3 gems that are almost always have inclusions such as emeralds.
As Type 3 gems, emeralds are expected to have inclusions visible to the naked eye. Therefore, if a relative lower priced Emerald looks inclusion free and eye clean it is more likely a synthetic emerald.
Did You Know: They are actually no less durable than diamonds.
ARE EMERALDS PRONE TO SCRATCHES?
Emeralds are actually quite resistant to scratching and abrasion, are rated a 7.5-8 on the Mohs Hardness Scale. This means they are durable enough for everyday wear! It is important to know about Emeralds is that many have inclusions. Jewelers call these special emerald inclusions as 'jardin'. Emerald jardin is very common, as Emeralds are considered a Type III stone (inclusions are usually expected on the market). However, some of these inclusions can reach the surface. And, surface-reaching inclusions can make a stone prone to chipping. Stones that don't have surface reaching inclusions are extremely rare and therefore almost all emeralds are treated with oil to enhance the clarity. So, by choosing a stone without (or with less) surface-reaching inclusions, your Emerald is durable enough to be set in an engagement ring!
CAN EMERALDS CRYSTAL SURFACE CRACK DUE TO EVERYDAY WEAR?
Yes. Like all other stones (even diamonds!) Emeralds can crack or chip if struck hard on a surface. Because many Emeralds have surface-reaching inclusions, cracks can occur more frequently and easily than diamonds. Inclusions can have different shapes and sizes. A particular type of thin fissure following the cleavage plan of the crystal is called cleavage. Longer fractures going through large parts of a gems volume can be a problem for stone's integrity. In surface reaching fractures, part of the gem can be lost, giving place to an indentation (known as nick). So, when choosing an emerald, it is important to look for a stone with no (or only minor) surface-reaching inclusions. If the stone you are interested in buying has surface-reaching inclusions, make sure that jeweler sets it in a protective and safe setting, such as a bezel, channel or halo!
Did You Know: Emeralds can be eye-clean like diamonds
ARE NATURAL EMERALDS LOWER IN CLARITY?
Many are, but not all! Unlike diamonds, where the loupe standard, i.e. 10x magnification, is used to grade clarity, emeralds are graded by eye. Because Emeralds are a Type III stone, jewelers in the trade expect them to have some inclusions and often so many that the gem is somewhat low in clarity (also known as cloudy). Inclusions are unique for each emerald and can be used to identify a particular stone. However, very high-quality real Emeralds can be eye-clean! An affordable way of choosing an eye-clean Emerald is to choose a Synthetic Emerald. Lab-Created Emeralds have similar mineral makeup as a natural Emerald but will not have a jardin (and are therefore usually more durable and lower in cost)
DO EMERALDS HAVE SPARKLE LIKE DIAMONDS?
Eye clean Emeralds will offer flashes of green light but will not have diamond-like sparkle and brilliance. This is due to Emeralds refractive index, which is 1.5-1.60, whereas diamond is is 2.4. That means that the light that enters an Emerald, will not reflect it as much as a diamond. Instead, light can make an eye-clean Emerald brighter and almost shine.
Did You Know: High-quality Emeralds are more valuable than Diamonds?
High-quality eye clean natural Emeralds are rarer than diamonds! It takes moving around 3x more rock to locate a high-quality Emerald than it does a Diamond. So, you can be rest assured that choosing an Emerald engagement ring is the ultimate symbol of your love.
Did You Know: Natural stones are treated by oil for beauty
The usage of fracture filling this gemstone has been documented in scrolls and other ancient texts dating back as far as Ancient Egypt. Most emeralds are oiled as part of the post-cutting process, in order to fill in jardins so that clarity and stability are improved. To make an Emeralds jardin less noticeable, and its color more green, natural Emeralds are oiled after they are faceted.
Cedar oil, with a similar refractive index, is widely often used to fill in fractures. These treatments are typically applied in a vacuum chamber under mild heat, to open the pores of the stone and allow the fracture-filling agent to be absorbed more effectively. The FTC requires the disclosure of this treatment when an oil treated emerald is sold to the public. This is a standard treatment and all natural Emeralds are expected in the industry to be oiled (just like Rubies and Sapphires are expected to be heated.)
EMERALD OILING AND ITS AFFECT ON PRICING
Cedar oil is 100% natural that is why it is the most traditional form of treating an emerald. Because this oil has the unique property of being able to penetrate even the smallest cracks and inclusions and make them less visible (because of its almost similar refractive index). The degree of treatment will affect the price of an emerald.
The stones in the lower enhancement category often require a small amount of oil to make them reach their full potential - one or two surface reaching fissures have been filled. The medium degree of treatment includes stones with multiple surface reaching fissures, one or more of which will be seen across the table of the emerald. And the high category consists of stones that have many oil-filled inclusions, many of which are surface reaching.
Here we are using a 3-carat emerald stone of good color and clarity as an example, with all other factors except level of treatment being equal, we can see the effect this has on an emeralds value. If a stone is graded as low clarity enhancement, prices may range from $10,000 to $15,000 per carat. If it is in the medium category, the price will range from $7500-$11,500 per carat. Finally, an emerald in high category of inclusions treatment will range from nothing to $3500-$5500 per carat.
HOW CAN I CARE FOR MY EMERALD ENGAGEMENT RING?
Natural emeralds usually have internal fractures and are oiled, so should be cleaned with warm or room temperature soapy water with a soft toothbrush, and not with an ultrasonic or steam cleaner (which may remove the oil). If you by accident remove the oil from your natural Emerald, not to worry! An expert jeweler can have your Emerald re-oiled.
ARE EMERALD ENGAGEMENT RINGS OK TO WEAR EVERYDAY?
Sure. Because Emeralds are a 7.5-8 on the hardness scale, they are durable enough for everyday wear. Like all fine jewelry (even diamonds), you should remove your rings before doing anything outdoor activities. So, before you work out, biking, garden, do household chores, etc., it is advisable take off your emerald ring! This will help protect it from unrequired bumps.
Did You Know: Lab Created Emeralds are significantly affordable
DO EMERALDS COST LESS THAN DIAMONDS?
Genuine top quality Emeralds will be more expensive than diamonds. This is because they are rarer in nature and much more expensive to find! However, if you like the look of an Emerald with more jardin (and there are some cool looking jardins out there), you can definitely find a natural Emerald that is less expensive than diamond. Also, Lab-Created Emeralds are also affordable!
WHAT IS THE AVERAGE PRICE OF A 1-CARAT EMERALD?
A natural high quality 1 carat Emerald can cost above $4,500 per carat, while, a Synthetic 1 carat Emerald is only $900!
HOW MUCH IS AN EMERALD ENGAGEMENT RING?
The price of your Emerald Engagement ring is usually the cost of your chosen Emerald center stone and your ring setting, we have Emerald engagement rings starting at $1000! Couples can choose from large Emerald center stones, beautiful Emerald solitaire, three-stone or halo diamond engagement rings!
Did You Know: Emeralds make unique engagement rings
IS EMERALD OK FOR AN ENGAGEMENT RING?
Emeralds make great engagement rings: they are beautiful, rare, and durable! Our customers love Emerald engagement rings because they are unique and though to bring good luck in your marriage, too.
ARE EMERALD ENGAGEMENT RINGS LESS POPULAR THAN DIAMOND?
Although not as popular as Sapphire engagement rings, Emerald engagement rings are popular with those who love green and women with confidence. They enjoy a celebrity following, too! Halle Berrys engagement ring flaunts a gorgeous Emerald cut Emerald, as did Jacqueline Kennedys! Princess Grace was also given a beautiful Cartier 10 carat Emerald cut engagement ring.
WHO SHOULD NOT CONSIDER BUYING AN EMERALD?
People who do not want to have to remove their jewelry before being active should consider other stones. Those who want an ultra-durable green gem should consider green diamond (we can source natural, color enhanced natural, or lab green diamonds!) or green sapphire or tourmaline.
WHO IS AN EMERALD ENGAGEMENT RING RIGHT FOR?
Those who love a natural green look and who will treat their Emerald gently with care! Emeralds are a lovely engagement ring choice for lovers of green and gardening. They are best for people who do not mind removing their jewelry when being active.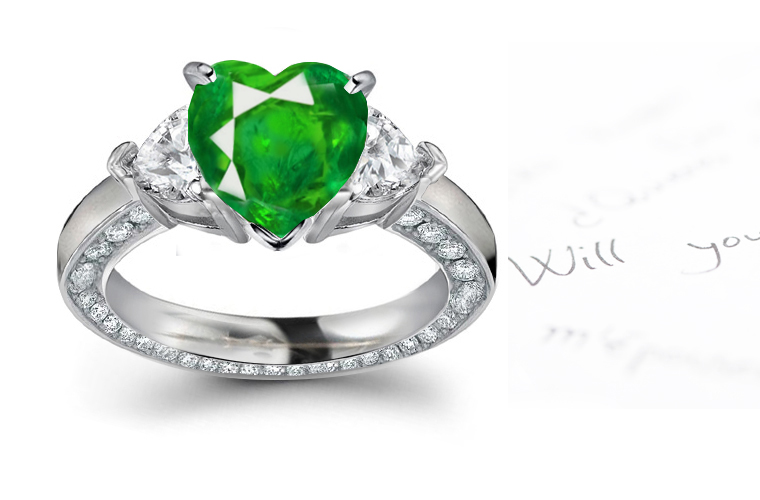 How to Pick the Best Emerald Engagement Ring
DIFFERENCE BETWEEN NATURAL AND SYNTHETIC EMERALDS
Emerald has a characteristic deep green color because of the presence of iron and chromium. The precious gemstones are regarded as a type III gem owing to the presence of surface reaching inclusions. Due to these surface inclusions, emeralds that are available on the market are oil treated with cedar oil which possesses a similar refractive index. Inclusions are unique for each emerald and can be used to identify it from a lab-created stone.
SHOULD I PICK A NATURAL OR LAB EMERALD?
It depends on why you want an Emerald! Couples choose Natural Emeralds for their rarity, status, and natural beauty. Couples choose Lab-Created Emeralds for their price, their high clarity, durability ease of maintenance and lower costs. Both are beautiful, durable, and make good engagement rings!
WHAT COLOR EMERALD IS BEST?
The best color for an Emerald is very slightly blueish Green. The slight blue tint gives your Emerald a royal look! That said, color is personal preference. Some people love a dark Emerald, some like Emeralds with a more yellowish tone! As the most important factor when choosing a colored stone is color, so dont let anyone tell you to like something you do not!
WHAT IF MY EMERALD HAVE INCLUSIONS?
Most Emeralds on the market are not eye-clean. Think of your Emeralds jardin as its unique identification number-there is not another one out there like it! Moreover, many people love Emeralds for their natural mossy, lush look. That includes its beautiful garden-like inclusions!
WHAT CUT IS BEST FOR MY EMERALD?
As you would expect, Emerald cut is the traditional shape for Emeralds, tracing back to 16th century! Also known as step cut, it was originally created for emerald gemstone. However, Emeralds are beautiful in all shapes. Square, Oval, Baguette and Pear are also popular shapes. Bride and groom choosing a natural Emerald should know that because of their rarity, natural Emeralds may have some cutting and symmetry problems. Cutting inconsistencies occur because gem cutters don't want to lose much weight out of the small amount of Emerald material mined! It is extremely important to have a gem with the proper proportion and symmetry. This will help dictate the beauty and brilliance of the stone.
WHICH METAL WILL ENHANCE EMERALD'S BEAUTY?
Most people the look of an Emerald set in a yellow gold prong with a white band, but it looks great in all metals! Yellow gold will bring out the color of an Emerald, while white metals such as white gold or platinum will give it a softer tone.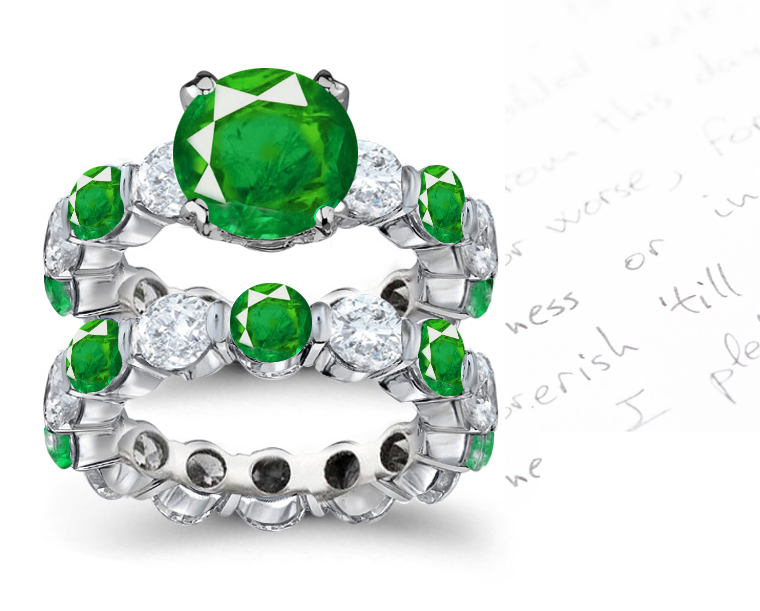 LEGENDS AND LORE
Emerald is the traditional birthstone for those born in May as well as the traditional gemstone for 35th wedding anniversary.
How can I Order a Unique Emerald Engagement Ring?
Email us at information@sndgems.com or visit our store! Let us know about the type of Emerald you want, and we will happily provide you a price quote. Do not know where to start, or what you can afford? Let us know your budget and style, and we will many options for you. Feel free to ask for Victor, the gemologist. We love helping our clients find the perfect gemstone engagement rings of their dreams. To view our beautiful selection of emerald engagement rings click here.
Guide to Buying The Best Emerald-Cut Diamonds: Pros & Cons
Not every bride prefer the bling of a round diamond. If you�re looking for a cut that�s subtle and elegant, consider an emerald-cut diamond for your engagement ring.
Learn here tips for fancy emerald-cut diamonds and how to find a high-quality emerald cut diamond within your budget.
While most brides eyes are drawn to round brilliant diamonds for their incredible sparkle, emerald-cut diamonds have a more subtle flash of color.
Better yet, emerald cut diamonds are much cheaper than the popular round diamond. By choosing an emerald-cut diamond , you could save 30% or you can pick a larger center stone for the same price! With these fancy cuts, you can find that perfect engagement ring without breaking the bank.
The primary difference between emerald cuts and princess cuts is the shape. Traditional emerald cuts are elongated rectangles with the corners cut out. Princess cuts are square versions of emerald cuts with truncated corners. This gives them an almost octagonal shape.
Emerald-cut diamonds have an hall of mirrors effect, and their elongated shape looks very appealing on the finger. Additionally, emerald-cut diamonds appear much larger but can't mask inclusions.
How to Judge Step-Cut Diamonds
The cut quality of step-cut diamonds, like emerald cuts, is more subjective than it is for round brilliants. While round brilliant cuts are carefully cut to provide the most sparkle, step cuts reflect broadly, and a number of different angles can create a beautiful pattern of light.
Length-to-Width Ratio
The length-to-width ratio (L/W) can affect the appearance of emerald cut diamonds. We prefer a L/W of 1.3 to 1.6.
Depth
Unlike round diamonds, the depth and angles in step cuts are less important. Instead, for step-cut diamonds, always look for a shallow cut diamond. Diamonds with more depth will 'hide' their weight. In other words, deeper diamonds look smaller than shallow ones!
So, it�s best to keep the total depth percentage at 68% or under.
Window/Table
Again, there are no firm requirements when it comes to table size. The table is the large window on top of the diamond that provides a way for eye to look into the stone.
While its best to avoid particularly large tables, as these can effect diamond performance. Tables under 70% will help you find a good diamond.
Polish and Symmetry
Polish and symmetry of good or better is the best as you�ll never know the difference!
Clarity
Unlike brilliant cuts, step cuts donot hide imperfections. Make sure to look for imperfections under the table of the stone, as these are often visible to the eye.
VS2 clarity grade are almost always eye-clean and less expensive than higher clarity grades.
For larger emerald-cut diamonds (>3 cts), keep in mind that the imperfections in a VS2 stone may be more visible.
To ensure an eye-clean clarity, check out the lab report for diamonds inclusion.
Color
Fancy cuts also tend to show more color than round brilliant diamonds. For emerald-cut diamonds, an H color diamond will appear white.
If you want a custom made engagement ring with a halo, side stone, or three-stone setting, try to match the side stones in color grade.
Where Should I Buy Emerald-Cut Diamonds?
If you are buying an emerald-cut diamond online, always buy from a well-known vendor and review their return and exchange policies. For these cuts, its essential that you can review the clarity imperfections not just from online photos but see how the diamond performs. We offer high-quality, close-up 360-degree videos of their diamonds.
Our diamond experts also review your choices with you. They will help you determine if the stone is eye-clean and whether it has surface-reaching imperfections that can weaken the stone.
Read more about emerald cut diamond engagement rings: 1, 2, 3, 4, 5, 6, 7, 8, 9, 10, 11, 12, 13, 14, 15, 16, 17, 18, 19, 20, 21, 22, 23, 24, 25, 26, 27, 28, 29, 30, 31, 32, 33, 34, 35.