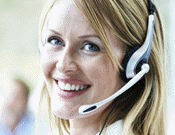 Sndgems.com diamond and fine jewelry expert consultants are available 24/7-365 days of the year to help you, to answer all your questions about your ring or your order. And you won't have to wait on hold for hours to get your question answered, as most calls are answered in less than few seconds.
They offer expert advice & guidance as they are trained on the standards set by the world's foremost diamond grading laboratories like GIA and EGL. Our diamond and jewelry consultants are not only experts on the diamond five Cs or gemstone grading, but they've also helped thousands of couples in choosing the perfect diamond.
We try our best to take care of all your special requests, such as special packaging, work place or saturday delivery, shipping to a pick-up facility or an alternate shipping address for suprises. 365 days a year, our diamond and jewelry consultants are available to help you with difficult decisions ranging from diamond quality or setting style, to choosing the perfect setting in platinum or 14k gold. They are experts at helping people select an engagement ring she will love and look at it millions of time for rest of your life. We'll work with you and you can set the pace and there is no pressure to buy because Sndgems.com diamond and jewelry consultants do not work on commission or other sale incentives.
From the time you submit your order with us, and your payment is approved, your order immediately goes to our New York Diamond District off-site factory where the process of building your ring begins immediately.