DIAMOND FACTS | DIAMOND BUYING GUIDE
---
Diamond Color | Diamond Clarity | Diamond Weight | Diamond Cut| Diamond Fluoroscence | Diamond Certificates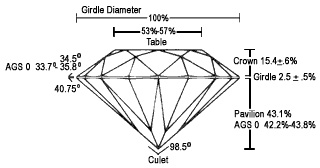 Diamond Cut: In its natural state, a diamond's beauty is generally concealed. While nature determines a diamond's color, clarity, and carat weight, the hand of a master craftsman is needed to release its fire and beauty. What draws out its brilliance is the cut of the diamond, which under ideal circumstances maximizes the optical properties within the diamond, particularly its ability to refract light and disperse color.
---
Not to be confused with the shape of a diamond, cut refers to the arrangement of a diamond's facets. A diamond that is "ideal cut" captures and releases the maximum play of light. The cut gives each diamond its unique sparkle and brilliance by allowing the maximum amount of light to enter and reflect back out of the diamond.
---
To achieve an ideal cut, the diamond cutter must adhere to a whole series of exacting tolerances. Those tolerances, in turn, may well mean that much of the rough diamond has to be cut away. For that reason, ideal cut diamonds are the exception rather than the rule. In fact, fewer than 1% of all diamonds are cut to ideal proportions. Consequently, you're likely to find ideal cut diamonds in only the finest stores.